Register your Appliance and extend your guarantee
Standard 2 Year Warranty
We are delighted that you are now the proud owner of a Liebherr appliance.
All Liebherr appliances have a full 2 year warranty covering parts and labour. If any part of the machine fails or a fault develops through normal use, it will be repaired free of charge (in accordance with terms and conditions on our warranty card).
Please register your appliance using the options below to activate your FREE 2 year guarantee.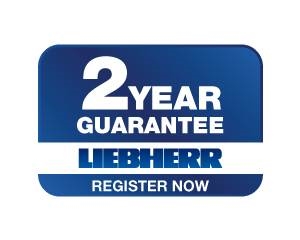 5 Year Warranty (Added Security)
Naa are the distributor for Liebherr within Ireland and as we have such confidence in Liebherr we are offering a further 3 year parts and labour warranty on selected models within the range (terms & conditions apply) to total 5 years cover. Extended warranty must be registered and purchased directly with Naa only.
Freestanding under counter units                   €25
Built in under counter units                              €50
Built in units with no icemaker                         €75
Built in units with icemaker                               €100
PLEASE NOTE
Registrations must be completed within 3 months of purchasing the appliance. To avail of any promotions that may be running you will need to register your appliance with the details either on the downloadable or online form below. Upon registration you will receive details of your application and any promotional goods hereafter.
Warranty is on registration only. Customer must install appliance as per manufacturers instructions. Accidental damages to parts are not covered. Service calls must be carried out by authorised Liebherr engineers.
Customer Care
Our National Customer Care Centre can be contacted should you require instructions or service. Please call 01 4600064 or you can email liebherr@naa.ie.
Spare Parts Direct
To order spare parts or accessories please call 01 4600064 or email liebherr@naa.ie or complete our parts order form here and include the model and 9 digit service number.The parts or accessories can be quickly despatched direct to your home.
Register by phone on 01-4600064
Register online by completing the form below
Register by post – using the registration document supplied with your appliance or download it below.
Complete To Register Your Guarantee
Terms & Conditions
All Liebherr appliances carry a fully inclusive 24 months' parts* and labour guarantee. On Selected models NAA Appliances offer a further 3 years guarantee, provided that they are fitted correctly & installed as per the instruction manual.
(evidence will be required of date and place of purchase), and that your appliance is fully registered with us.
Appliances are not used for trade and commercial use.
Appliances have been used solely in accordance with the instruction manual.
Appliances have been properly connected to a suitable electrical supply voltage as stated on the appliance rating plate.
Appliances have not been subject to misuse or accident; modified or repaired by anyone other than our own service engineers. 
* For the parts guarantee to be valid, the repairs need to be carried out by a Liebherr engineer.