MESSAGE TO CUSTOMERS: Our showroom is currently closed due to Covid-19 restrictions. Calls and email are being monitored so feel free to get in touch.
Liebherr Ireland is delighted to be working in partnership with Promed in providing Ireland with the premium Pharmacy range of refrigeration countrywide.

Promed is at the forefront of innovative change in Patient Centred Care in Ireland with over 3,500 GPs and 1800 Pharmacy customers.

Promed is a market leader in Primary Care Medical and Pharmacy solutions and equipment and dedicated to advancing a new Irish Primary Care Access Model in partnership with our customers.

Browse the range of Pharmacy products in the current brochure.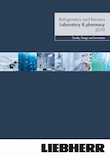 Refrigerators and Freezers Laboratory & Pharmacy 2019
Got a question on pharmacy products?
Liebherr Ireland
NAA Appliances are distributors for Liebherr in Ireland.