Register your Appliance and extend your guarantee
Standard 2 Year Warranty
We are delighted that you are now the proud owner of a Liebherr appliance.
All Liebherr appliances have a full 2 year warranty covering parts and labour. If any part of the machine fails or a fault develops through normal use, it will be repaired free of charge.
Please register your appliance using the options below to activate your FREE 2 year guarantee.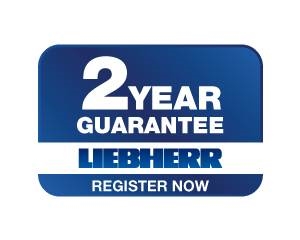 5 Year Warranty (Added Security)
Naa are the distributor for Liebherr Appliances within Ireland and as we have such confidence in Liebherr, we are offering a further 3 years parts and labour warranty on selected models within the range (terms & conditions apply) to total 5 years cover. Extended warranty must be registered and purchased directly with Naa only .
Freestanding under counter units                   €25
Built in under counter units                              €50
Built in units with no icemaker                         €75
Built in units with icemaker                               €100
Register by phone on 01-4600064
Register online by completing the form below
Register by post – using the registration document supplied with your appliance or download it below.
Complete To Register Your Guarantee